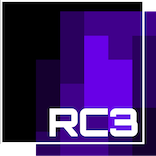 c-base @ RC3: c-base will be part of this year's Remote Chaos Experience (RC3).
c-base is closed!
Due to a newly discovered fast spreading virus the spacestation will cancel all planned events and close down until further notice. Please check this page for details. Stay safe, wash you tentacles! Thank you for considering the safety-instructions.
---
Die c-base ist geschlossen!
Aufgrund eines neuartigen, sich schnell ausbreitenden Virus sagt die Raumstation bis auf weiteres alle öffentlichen Veranstaltungen ab und bleibt geschlossen. Aktuelle Details auf dieser Seite. Passt auf Euch auf, wascht Eure Tentakel! Danke für die Beachtung der Sicherheitshinweise.


c-base logbuch | Neueste Einträge